This shop has been compensated by Collective Bias, Inc. and its advertiser. All opinions are mine alone. #TeaProudly #CollectiveBias
In August, I was "promoted" from hosting the Midday radio show on my main station, to Afternoon Drive (which is the 2-7 pm time slot, the second most popular time of the day for radio listeners, after morning shows!). It's been six weeks now and I'm still quite amazed this happened so early on in my career, as I definitely was not expecting this! Something else that I was not expecting was the huge schedule and life changes that came along for my personal life with new hours at work. I went from leaving for work around 8:30-8:45 am depending on how much I had to get done before going on-air that day, to suddenly with little notice I didn't have to be at work until noon. Noon!!! That's half the day gone by where I'm not even at work! (I have been going into work at 11-11:30 most days to get extra things done, but still. That's so much later!)
After my morning radio internship last winter I officially became a morning person, and despite working later in the day now, that hasn't changed! Now instead of spending my mornings at work, they're my own to do with what I please. And that's actually a kind of cool thing! I have no idea if my next radio job will also be Afternoon Drive and grant me the same schedule privileges, so I've been trying to enjoy and make the most of my mornings while I can. Since it's been over a month now with the new schedule, I feel like I've finally gotten some grasp on what to do with my mornings, and have some sort of an informal schedule in effect. I thought I would share that with y'all in today's post! I also thought I would share a couple photos of the fall decorations on my dining room table as well- as I was so happy with how festive that turned out!
*7-7:30 - Initial wake-up: My phone's alarm goes off sometime between 6:50 and 7:45, depending on what time I went to bed the night before. Usually 7:30 though! Fun fact about me: I NEVER hit snooze on my alarms. If I've been woken, I start the process of waking up! However, if I ever do wake up and feel a migraine coming on, since I do have the luxury of working later now, I will go back to sleep and set another alarm for 9, but that hasn't been happening too often thankfully. The first thing that I do when I wake up is thank God for the blessing of another day, and grab my phone from its charger!
*7:30-8:30 - Slow wake-up + social media:
I spend about an hour in bed every morning playing on my phone, and letting myself
slowly
wake up. I suffered greatly with migraines in college, and I've found recently that 1) getting at least eight hours of sleep, 2) waking up early and 3) giving myself a lot of time in the mornings to lie in bed and fully wake up, really helps with preventing them for the rest of the day. When I lived in Charlotte, the first thing that I did every morning was read
The Charlotte Agenda
(the BEST lifestyle website / news source for that area). Sadly The Agenda doesn't really apply to my life in VT now- so while I do still read their articles occasionally, it isn't the first thing I check anymore. I actually don't have a go-to app that I visit first everyday! Some days it's Instagram, some days Twitter, and some Facebook. But in the duration of that hour, I've visited all my favorite social media apps, seen if I've missed any major news updates overnight, and read through my favorite blogs on the Blog Lovin' app! Occasionally I post an Instagram photo in the 8 am hour if I didn't post one the night before- however usually I do most of my social media
posting
during my lunch at work, or at night when I get home.
*8:30 - Make the bed: I NEVER thought I would become one of those people who made their bed everyday. Nope. Not me. Couldn't be possible. As a kid, my mom always had to get after me to make mine if I was cleaning my room or I had a friend coming over, and in college... that was even more of a lost cause! I had friends who made theirs everyday and I never understood it. Well, that all changed once I had my own apartment and a nice big bed that I love! Hahaha. I skip this on days that I'm running late for something or have a commitment before work, and it just feels wrong. Who am I?!
*8:40-9 - Breakfast prep + getting out of my room:
After leaving my room, the first thing that I do is head to my coat closet and grab a bathrobe. I am kind of a bathrobe aficionado and just love spending the morning in a nice cozy robe! Then I get my face washed, and put on music in the apartment. The one thing I don't like about living alone is the
silence
. I have Spotify Premium and usually have been playing one of my favorite playlists in the mornings, but last week I rediscovered the Music Choice channels on TV, so that's been my go-to for morning tunes as of now! Then I head to the kitchen and look through my breakfast options. This is also when I get my hot water ready for my
morning cup of Bigelow tea
!
*9-9:15
-
Breakfast:
I take breakfast over to my dining table, which is the space that you see pictured! Lately I've been really enjoying organic frozen waffles and turkey bacon as a favorite breakfast. I always drink a cup of
Bigelow tea
with breakfast! I am not a coffee drinker at all, and have always been a tea girl.
Bigelow
is one of my favorite tea brands- all of their teas have strong flavor, and they're reasonably priced, and so easy to find at most regional and nationwide grocery retailers. I found a great selection of Classic teas that I enjoy at Walmart! There's just nothing that gets your day started like a hot beverage... and another thing that I love about Bigelow is that they have plenty of caffeinated and caffeine-free varieties! I alternate between both depending on what the day holds for me. 😉 Some mornings I drink almond milk with breakfast instead, so I'll wait to make my cup of tea until later in the morning!
*9:15-10:30 - Being busy in my apartment: I spend a little over an hour each morning being productive and tackling things on my to-do list! Eventually I would like to get this down to more of a set schedule: Mondays, clean the kitchen. Tuesdays, blog emails + pitches. Wednesdays, laundry and bathroom chores, etc, etc. However right now I just kind of use this time to go with the flow on whatever it is I think needs to be tackled most urgently! Some mornings, it's all blog related tasks. Shooting images in my apartment for Instagram or a blog post (like this one!), responding to important emails, planning my editorial calendar. Other mornings, it's all cleaning focused. One morning earlier this week for example, I cleaned out my fridge for old food and straightened up my living room in this time block. If a new episode of a podcast that I listen to came out overnight, I'll listen to that in this time while doing things. My gym offers some 10:30 fitness classes which I want to try out later this fall, so if I do those I'll have to be ready to leave my apartment for the day around 10!
*10:30-11:15 - Get ready:
I always do my makeup first, then hair, and then finally get dressed! If I didn't have a
cup of Bigelow tea
with breakfast that day, I'll make one then and bring it with me to sip on while doing my makeup and hair. 😊 I usually do one makeup-free work day a week, but the other days I enjoy getting all ready for work, and doing a full face of makeup. Hair is a bit more tricky since my whole afternoon is sliding headphones off and on... so I've been wearing braids and ponytails more than ever before!
*11:15-11:30
-
Snack and OOTD picture:
I usually try and eat a quick snack at this time if I can- because I now work from 12-7, I don't get a traditional lunch break, so I just eat a lot in the mornings before I leave for work, have a snack before going on-air, and then eat dinner right when I get home. Then I head over to the big mirror in my living room to snap my OOTD picture for Insta Stories! I started sharing each day's work outfits on there a few weeks ago and the feedback from y'all has been great, so I've been continuing to do that! (Follow me @miss_alk if you aren't yet!)
*
11:30 - Off to work!
Time to grab my work bag and laptop and head to the radio station! If I leave at 11:30, I'll still get there a little bit before noon, so plenty early to settle into my desk and get my prep work done for that day's show.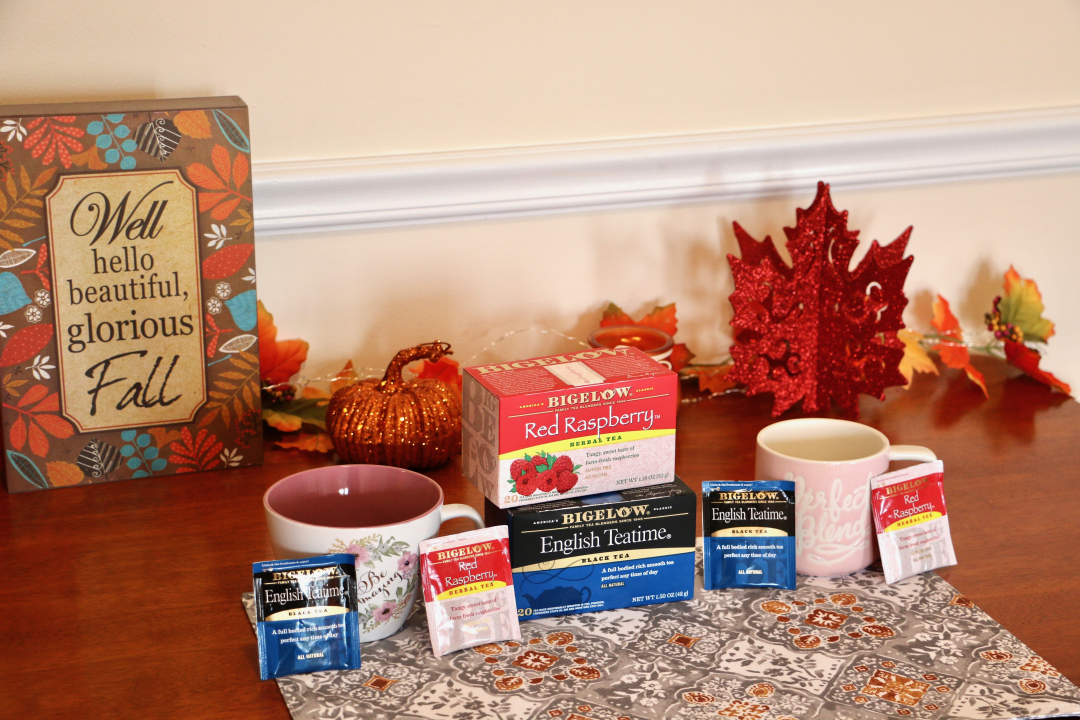 And there you have it- my current morning routine! My luck now that I've adjusted to this new schedule my hours will change again... haha!! But for now, I'm enjoying the fact that I've settled into this schedule for weekdays. If you want to bring my favorite part of mornings into your daily routine, just click on the picture below (it's shoppable!) to purchase Bigelow tea! You can also find Bigelow teas in-store at your local Walmart:
Check out Bigelow and all of their great tea offerings on
Facebook
,
Twitter
and
Instagram
!
Happy Friday, have a wonderful weekend!
God Bless,
xoxo Annaliese