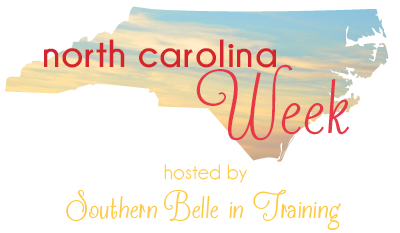 Time for the last post of North Carolina week! Today's guest poster contacted me last month to ask if I was still doing the "Under 30" interviews that I did on my old blog. After I told her that I wasn't continuing them anymore, I suggested instead that she write a guest post for me! When I found out that she was from North Carolina I decided to make her post part of NC week. I now present to you a guest post from "A Girl Without a Name!"
I'm a mainstream fifteen year old who wishes she wasn't so typical. I'm a photographer. A blogger. A writer. An addict to the TV show Bones.

A book junkie since I could read. Wannabe author since second grade. Aspirant nurse since forever.

Full time soccer player. Seasonal swimmer. Chick-fil-a eater. Sunset watcher. Lover of sweet tea and Cheerwine (go look it up). North Carolina native.
I anonymously started my blog way back in November of my freshman year of high school. I then started taking up photography, first through a digital camera and now through my iPhone and hopefully one day from a real DSLR camera. Most of my writing is about whatever is nagging me at the moment; friendships, feelings, fashion, etc. I like to think I'm a deep thinker and I've recently been trying to potray that through my blog by tackling bigger issues and writing thought provoking posts, although I'm not really sure if I'm succeeding just yet. I'm occasionally funny and sometimes I say things I shouldn't. And I have the habit of starting sentences with and. I hope you join me.
I've lived the entire span of my short life in North Carolina. It's a beautiful state, full of everything from clusters of alluring mountains, to the beach with it's sandy coastline, to rolling hills and miles of farmland, full of endless rows of tobacco and cotton. We have a unique geography and boast that no matter what the other states say, we have the best BBQ in the south. You can thank us for Krispy Kreme Donuts, the first airplane to fly, Pepsi-Cola, and the first public University (UNC Chapel Hill), among other things. And I promise that if you stay longer than a day, you'll hear a thing or two about our three infamous college basketball rivals.
In one sense, we're like everybody else. We've got malls and movie theaters and freeways and Starbucks. But we don't have shopping carts, we have buggies. We don't have have fireflies, we have lightening bugs. We won't call you ignorant, you'll just get a "bless your heart" followed by a smile and the shake of the head. And we occasionally (or repeatedly) drop the g off the ends of words. In most houses, your only drink choice for dinner is sweet tea, y'all rolls out of your mouth without a second thought, and you only notice southern accents if you aren't from the south.
We have everything from Mayberry-like towns to the urban cities of Charlotte and Raleigh. Neither of them are exactly New York City, but in our own little slice of the south, they suit us just fine. As a little kid, I always loved visiting Charlotte. I would walk along the sidwalk with my head permanently looking up in complete awe of the buildings that seemed to touch the sky. My mom would have to practically drag me along in order to keep walking and she'd always laugh and proclaim that I was a city girl born into the wrong town.
My absolute favorite lake, just 45 minutes from my house.
I live in a semi-small, rural town about an hour and a half from the mountains and four and a half hours from the coast. Most families have been living here for generations, growing up next to their best friend and marrying their freshman year crush. Most kids go to the same high school that their parents and grandparents went to. My childhood book is full of county fairs, day trips to Boone and Asheville, and Sunday lunches with friends that felt like family after church.
My high school is full of two kinds of people: camo wearing farmer's kids who intend on taking over their dad's land and kids who are counting down the days to graduation, filling their future with plans that don't involve their home town. No matter our plans though, we all get together every friday in the fall for high school football games. Our parking lot is filled with pick-up trucks, and country music rings from their stereo systems as they leave school each day. And we'd all be lying if we said we'd never taken an AG (agriculture) class.
I grew up in a place where screened in porches are a necessity. A place where the local restaurants are visited far more often than chain ones. (Ok, maybe there's an exception for Chick-fil-a and Bojangles, but if you've ever eaten at either of these places, you'd understand.) A place that's consistently dubbed as boring through social media by yours truly and every child that attends my high school. A place where every high schooler can't wait to leave, until it actual comes time to separate from our childhood roots that we really do love.
Life is great in my own piece of NC that I call home.
It wasn't until I started traveling more out of state, did I realize my love for North Carolina. I'm a mountain girl and everything from the Blue Ridge Parkway to the random mountains that we never new existed until a quick Google search, makes me love NC just a little bit more with every visit. I love our endless rivers and lakes, our sandy coastline, and the red clay that squishes beneath your feet wherever you walk. I love our just hot enough summers, winters where the temperatures dip below freezing for the always exciting snow layered yard, and the distinct seasons that enter and leave seamlessly throughout the year.
And maybe I'm a little biased, but I would never want to live anywhere else. There's no other state where I'd love to raise my children. There's no better place that I'll ever call home.
There's so much that makes North Carolina what it is- North Carolina. There are so many things that you can only do here. You haven't experienced a true fall until you drive down the Blue Ridge Parkway in October, only stopping to buy home grown jam and peach ice cream from a local produce stand. You haven't experienced absolute peace until you go kayaking down the French Broad River in near-total silence, the only sound being the steady churn of the water and the quiet songs of the birds and insects serenading you in the back ground. You don't know what a true summer is until you visit the Outer Banks with it's salty, deep blue ocean and light houses scattered in the back ground.
You have no idea what you're missing, unless you come see it for yourself.
"Here's to the land of the long leaf pine,
the summer land where the sun doth shine,
where the weak grow strong and the strong grow great,
here's to down home, the Old North State." (North Carolina's State Toast)
Hope y'all come visit us some time.