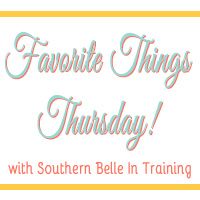 It's Thursday, which means that it's time for my new link-up, Favorite Things Thursday!! If you'd like to particpate then please put the official FTT button in your post, and I'd love it if you shared the link in a comment! :-)
In January 2012 I went to the mall one weekend with a few of my high school friends. A few stores had started displaying spring fashions... although why I'm not sure since spring doesn't arrive in Maine until like May. But anyways, American Eagle Outfitters had a few sundresses out, and one of them was a gorgeous orange color with beautiful flowers on it. It was part of the brand new Spring line which meant that it wasn't on sale, and the price was I think around $45ish. I thought it was a lot for a cotton sundress, but after I tried it on my friend convinced me to buy it. And gosh am I glad that I did!
It is seriously the perfect sundress. I can dress it up with wedges and a cute hairstyle, or down with flip-flops and sunglasses. It fits me so well and it flatters my body. I also love it because it flatters my chest without exposing cleavage... it stays where it's supposed to which makes it modest! I plan to wear it on Move-In day for college next weekend. I remember from last year's move-in that a lot of pictures are taken on the first day, so of course I want to look cute! But at the same time I don't want to wear anything with delicate fabric that could get damaged or stained. This dress has been through the wash a ton of times and still comes out looking great, so I don't have to worry about getting it dirty in the moving process.
Here are just a few of the ways that I've worn it!
Freshman orientation at my former college!
As a beach cover-up during our NC beach trip last summer!
A get-together with my good friend Katie
Bad mirror picture but this is a way that I styled the dress during my senior year in the early spring months when it was still quite chilly out.
I wore it most recently last weekend when my old exchange student friend Anna was visiting Maine from Japan!
And lastly, I wore this sundress on one of my visits to the college that I'm transferring to! I had actually looked at my transfer school as an original option for college when I was still in high school. I wore the dress when I came to the campus for a high school visit day on my second trip to NC in March 2012.
Do any of you have a beloved dress that gets you through so many important events?
xoxo Miss ALK